NEW RELEASE
UNDER THE MOON, ON A JOY
(2022)
Penny So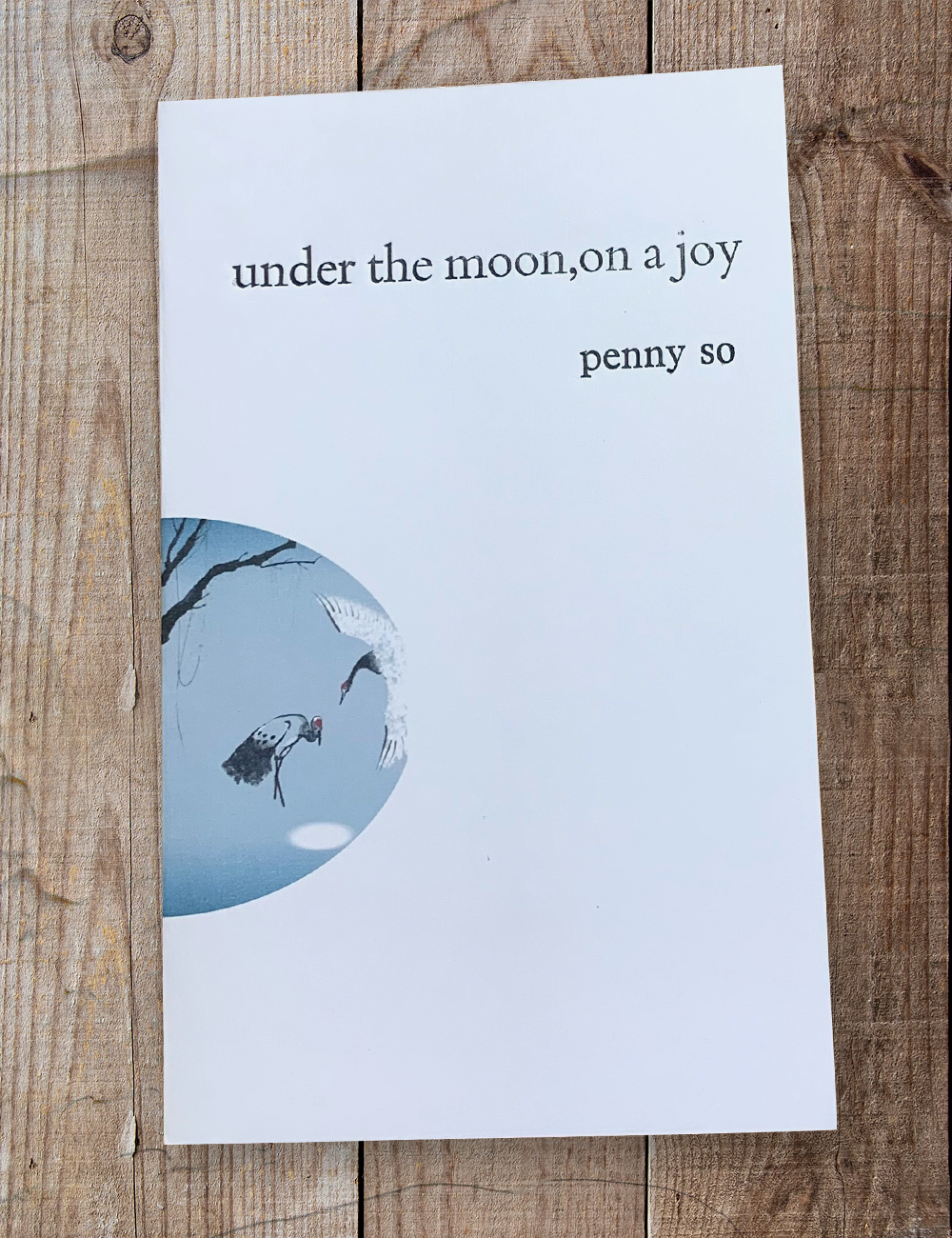 Description
UNDER THE MOON, ON A JOY is at once fantastical and wise; a world where the wisdom of fish, insects, and birds is honoured and shared with humans. Through the language of creatures, changes of the weather, and the consciousness of the cosmos, So explores the nuances of formative experiences, family, and place with the keen sensitivity and vigorous wonderment of childhood.
About The Author
Penny So is a poet and zine-maker living on the traditional, ancestral and unceded territories of the Musqueam and Coast Salish peoples. She is of Chinese-Vietnamese descent. Her work has been published in pulp mag and she was the finalist in Two Sylvias Press 2018 Chapbook Prize.
She has two cool cats and a spectacular dog; they all share a desk.
Specifications
ISBN: 978-1-7771512-4-9
36 pp., 5.25" x 8.5"
Limited edition letterpressed jacket
Threadbound in a cover of Royal Sundance Linen 80 lb with gold fleck unryu flyleaf
2nd Print


Cover art by Penny So
Praise for UNDER THE MOON, ON A JOY
"Reading the poems in under the moon, on a joy is like discovering small doors on the sides of trees. I find myself becoming child-sized again while my imagination balloons in turn. So's poems unfold with a dream-logic that does not simplify or resolve, but reveres the deep mysteries of family, place, and identity. I am utterly charmed by this collection and can't wait for more from this distinctive new voice." — Raoul Fernandes